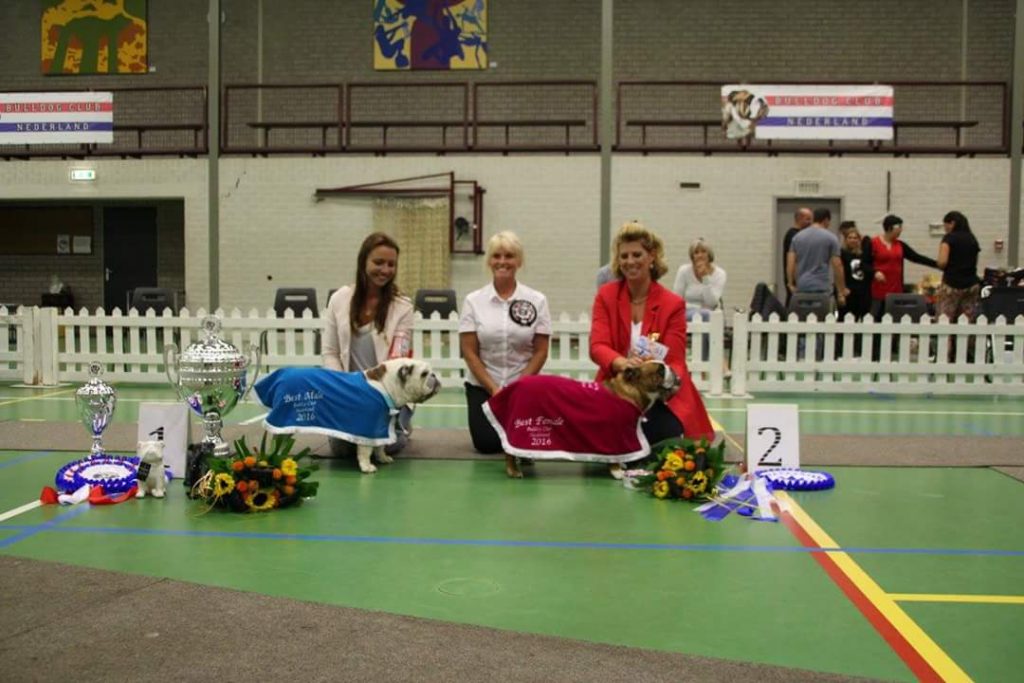 KCM 2016 Bulldogclub Nederland.
Na maandenlang voorbereiding is de KCM al weer voorbij …
Het complete BCN team is moe maar voldaan na een super geslaagde 6e Clubshow.
We hadden weer prachtige prijzen en schitterende Rozetten.
Ook werden de beste teef en beste reu gehuldigd met een schitterd dekje.
Er is een prachtige Clubwinnaar gekozen door keurmeester Trudi Ferguson
Norman the Exclusive Bull CAC BOB Clubwinnaar.
Wij kijken terug op een geslaagde dag ! tot de 7e KCM tot volgende jaar !
Het BCN Team.
Uitslagen Kampioenschap Clubmatch.
66 inschrijven waarvan 5 absent
Keurmeester Trudi Ferguson
Reuen
Jongste puppy klas reu (4-0)
1. Vb. Nobozz scar (Beste jongste pup).
2. Vb. Punker babynou bull
3. Vb. Bandit bull's Pablo exclusive bull
4. Vb. Romeo v. josabull's
Puppy klas reu (2-1)
1. Vb. Adventure to live mister melroy
Jeugd klas reu (7-1)
1. U. O'connor of the tivoli bulls (jeugd Cac)
2. U. Stardust joint venture
3. U. My happyness bulls of mabena
4. U. Starspirit sweet symphony
U. Treasurabull's fifty shades
U. Onassis junior the exclusive bull
Tussen klas reu (2-0)
1. U. Shipshape shooting star (Res.Cac telt als volledig Cac)
2. U. He's archie sealaville
Fokkers klas reu (1-0)
1. U. Orlando of the tivoli bulls
Open klas reu (7-1)
1. U. Norman the exclusive bull (Dubbel Cac, BOB Clubwinner)
2. U. Respect-a-bull redkick
3. U. Britishpride fly the flag
4. U. Relight my fire kinibox
U. Diggle blitz van josabull's
U. j.ch Nickelson silver lord nocturnal beauty
Kampioens klas reu (3-0)
1. U. Meljane king of the desert
2. U. Shipshape beyond suspicion ocobo
3. U. Mister mc-laren of nocturnal beauty.
TEVEN.
Jongste puppy klas teef (7-0)
1. Vb. Onthebull such a doll
2. Vb. Precious little diamond van 't verlengde hof
3. Vb. Julia v. josabull's
4. Vb. Symplydoor shadow
Vb. Symplydoor jewel for bullscompagnie
Vb. Redberypie van de bakerybulls
Vb. Icing on my cake van de bakerybulls
Puppy klas teef (4-0)
1. Vb. Eleva bashira jurasic bulls (Beste pup)
2. Vb. Shady lady v. josabull's
3. Vb. Jurika's grand prix
4. Vb. Red dress v. josabull's
Jeugd klas teef (10-1)
1. U. Devil in disguise bulls of mabena (Beste jeugdhond, jeugd Cac)
2. U. Respect-a-bull wild honey pie
3. U. Treasurabull's simply red
4. U. Lil kim bull save the Queen
U. Swankybull sugar Sara
U. Swankybull sugar sela sue
U. Oxi sexy bully
U. Orchid exclusive bull
U. Odille v. trod
Tussen klas teef (3-0)
1. U. Oh so beautyfull smooth diamont
2. U. She 's a queen from british knight
3. U. Beyoncé a midsummer night's star
Fokkers klas teef (4-1)
1. U. Girl of mine bulls of mabena (Best gefokte hond)
2. U. Luna going in style
3. U. Panda pop v. josabull's
Open klas teef (5-0)
1. U. Respect-a-bull dark secret (Dubbel Cac, Bos)
2. U. Jackie brown bulls save the queen (Res.Cac telt als volledig Cac)
3. U. Jelly splash v. josabull's
4. U. Eskeda glamour griin grey
U. Slobi's beautifull abbygail
Kampioens klas teef (4-0)
1. U. Respect-a-bull berry blush
2. U. Molly smooth diamont
3. U. High lord fiona
4. U. Kiss sexy bully
Veteranen klas teef (2-0)
1. U. Lemonvom el porompompero (veteraan Cac & Beste veteraan)
2. U. The hopi's mekensey
Best jongste puppy
Nobozz scar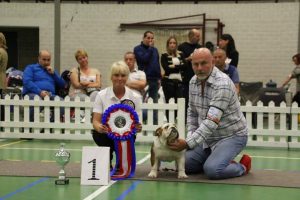 Best puppy
Eleva bashira jurasic bulls
Beste jeugdhond
Devil in disguise bulls of mabena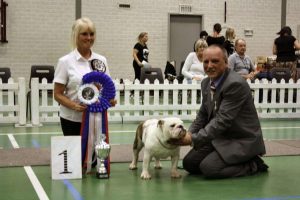 Beste veteraan
Lemonvom el porompompero
Best gefokte hond
Girl of mine bulls of mabena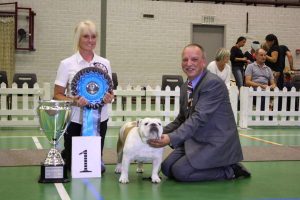 Best opposite sex (Bos)
Respect-a-bull dark secret
Best of breed (BoB)
Norman the exclusive bull
CLUB WINNER 2016
Norman the exclusive bull